The City's use of ITpipes, Cartegraph, and Esri helps streamline their rehabilitation planning.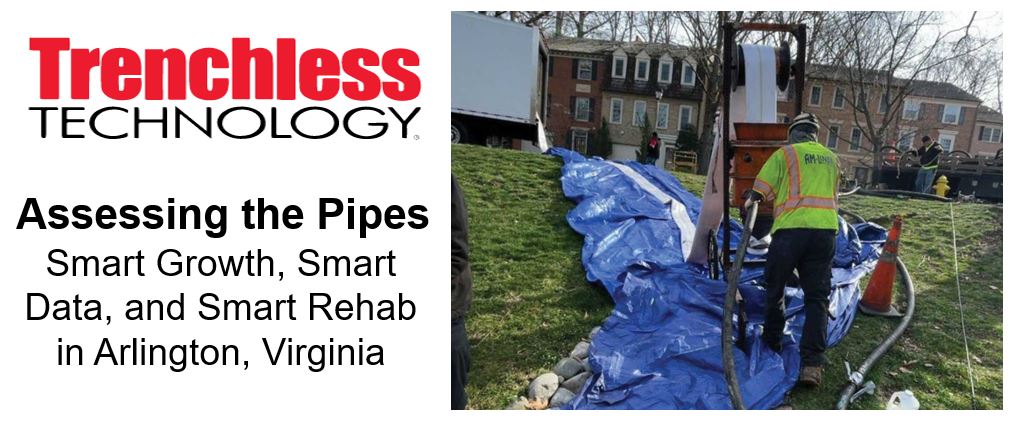 As a leader in the Smart Growth movement, Arlington, Virginia, subscribes to principles that help it excel in sustainability and transit-oriented development for its 233,000 residents. When it comes to their pipe inspection, a lot of Arlington's smart growth is thanks to ITpipes.
A world-class community and tourist destination located just five miles from the heart of the nation's capital, Arlington is the geographically smallest self-governing county in the United States, occupying slightly less than 26 sq miles.
The County aims to use minimally disruptive trenchless technologies to rehabilitate its aging sanitary sewer infrastructure. Utilizing cured-in-place pipe (CIPP) rehabilitation instead of dig-and-replace allows Arlington to limit traffic congestion, protect historic landscapes, and maintain excellent walkability – all goals of "Smart Growth" cities.
County employees perform hours of investigation and produce terabytes of CCTV condition assessment even before the CIPP boiler trucks arrive. The county's sanitary sewer system consists of 465 miles of pipe. Approximately 14 to 17 miles are relined annually. Arlington's weekly lining goal of 2,000 ft is more than many agencies rehabilitate in a year. Managing these assets and performing rehabilitation can be a challenging task. For continuous workflow, Arlington relies on the software trio of Esri, Cartegraph and ITpipes.
"We are very focused on maintaining our buried assets in Arlington," says Jeremy Hassan, P.E., chief operating engineer of sewers and streets. "The new workflow has almost eliminated duplicate inspection efforts and allowed us to track pipes that need follow-up, holding a work order open until it's complete. Our previous system was incomplete in that data would be collected but didn't go anywhere. Now, once the data is collected, it is instantly available to all appropriate County staff, so it is hard to ignore issues, taking us from being reactive to becoming predictive."
Check out Trenchless Technology Magazine's site to read the full article.
Check out ITpipes' website to see how Cartegraph, Esri, and ITpipes creates an automated bi-directional workflow
Want to see a demo of ITpipes for yourself? Sign up here
Related:
Charlotte Water: Quality, then Quanity