Thanks to its highly configurable platform, ITpipes boasts a resume that is more than just pipes. It also includes manholes, tanks, sidewalks, conduits, water towers and more!
One of our contractor clients, Luckinbill Inc, of Oklahoma, sent us these pictures of ITpipes being used high atop a water tower. Carl Fielder of Luckinbill uses an ROV, manufactured by Deep Trekker, to inspect water towers, and ITpipes software to record and report the inspection.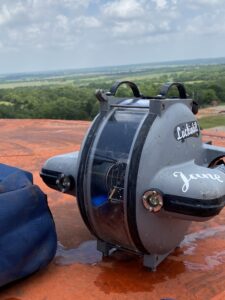 "We don't have to use a diver or drain the tower for inspections. It is so easy using these two (Deep Trekker and ITpipes) together to get the reports we need for the municipalities" adds Carl.
With the laptop and ROV both operating on batteries, they can avoid lugging a generator or power source to the top of the towers. With this set up, they inspect down almost 500 feet below the water surface.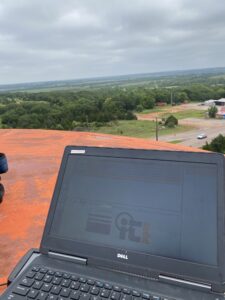 Thanks to its highly configurable architecture, Luckinbill can adapt the ITpipes report to the municipality's needs. They can quickly submit both the video and report.
We appreciate you sending in the pictures, Carl! As a "thank you", we'll be sending you some ITpipes gear!
Got a great ITpipes picture or application? We'd love to see it. Email [email protected] or submit it via our website here