ITpipes is committed to providing high quality and fully compatible inspection software.  Our software is designed to integrate with all industry hardware, whether provided by the manufacturer or an OEM reseller.  Almost every original manufacturer's system is 'open', and users can get video out of the system.  If a manhole system, cctv camera, or lateral system has video out, it can work with ITpipes! 
Many of the original equipment manufacturer's (OEMs) make or share ownership with a software product or company.  For example, Cues makes Granite XP software, Ibak makes Ikas* software, and Envirosight's European General Manager owns CDLab's WinCan software.  In a case like that, it's simpler and less expensive for the OEM to supply their own software. However, the majority of the time, ITpipes will work flawlessly with that same equipment, and do a better job at meeting your inspection needs!
As your inspection hardware needs change, ITpipes software can evolve with you.  Whether it is Cues, Envirosight, Ibak, Rausch, Subsite/RST, Aries, Inuktun, Deeptrekker or other, there is no need to change software if you change hardware.  We work directly with many OEM resellers and OEM companies. Simply, inform the OEM that you prefer to use ITpipes.
Let's go through some details.
If an OEM provides ITpipes with controller information*, we build that control into ITpipes.  Then, ITpipes can communicate with the hardware.  For example, ITpipes works with Ibak SI 3d Panoramo** Manhole cameras to load measurements directly into the ITpipes software.  We work diligently to ensure that this transition is successfully achieved.  If challenges arise, we're on the spot to fix them.  We understand that a seamless integration is essential.

Some OEMs provide systems or PCs that can be setup with ITpipes sync.  In this case, users capture video in the field, which can be synced directly into ITpipes for coding, viewing, sharing, etc.  For example, the Cues Spyder uses their own software in the field.  However, the inspections and media can be synced and accessed easily via ITpipes software.

Other OEMs may provide video that can be imported into ITpipes, such as, Envirosight's Quickview Zoom*** Camera.  Users can perform inspections using the Zoom camera.  Then, simply import inspections into ITpipes for coding, viewing, and sharing.
Bottom line: If your OEM is willing to work with ITpipes, we'll do everything we can to make the system work for you!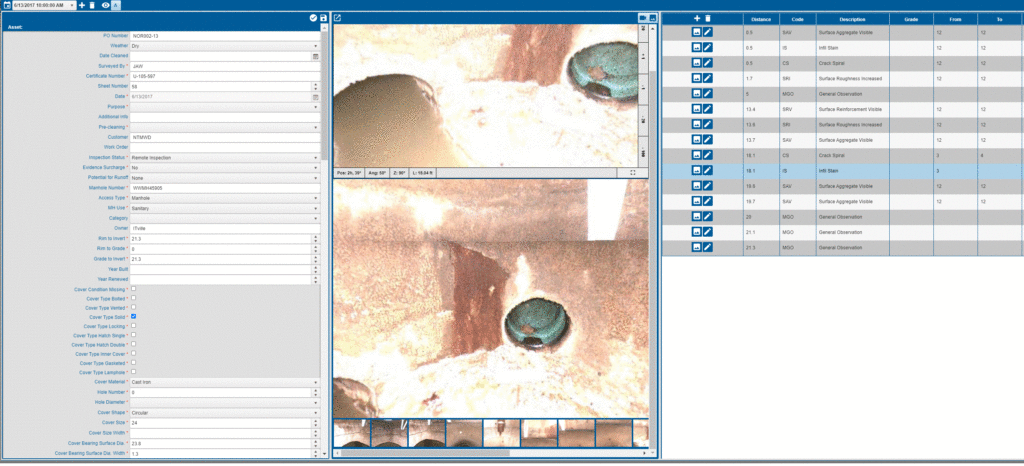 * The OEM must accept liability for their I.P. in use and hardware product functionality/warranty, ITpipes only provides the software and control of the hardware.
** Ikas and Panoramo are  trademarks of IBAK Helmet Hunger GmbH & Co.
*** Quickview and Cleverscan are trademarks of Envirosight.